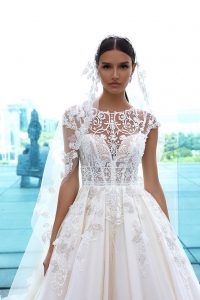 A veil is like fairy dust. Transforming ordinary to extraordinary. Something about a veil magnifies BRIDE.
The veil is the oldest part of the bridal ensemble, according to wedding history. Although through different diversity, culture and religion there are many historical meanings behind a veil.
Here are just a few of where the "veil" began. It dates back to the ancients, who wore a veil to represent the delivery of a modest bride awaiting her groom. In the Greek belief the veil hid the bride away from evil spirits who might want to thwart her happiness. In some cultures veils were symbolic in arranged marriages, the desire was to hide the bride's face from the groom. In Judaism there is a bedeken ceremony is when the groom goes and he identifies his bride, he sees that he is going to marry the right woman and then the groom puts the veil over his bride and says a prayer.
When Queen Victoria married in her famous ensemble, a white dress and a veil cascading down her back, making her the first modern monarch to be married in a veil…and so at that moment, the image of a bride was defined for centuries to come.
So in the 21st century as Joan Rivers says 'You can't wear a veil to next year's big party. This is your only chance. Wear the damn veil,' and so many thought "OK, Joan Rivers, you have a point."
Figuring out where the veil derives from then leads to choosing the perfect veil. From length to different finishes the options are endless.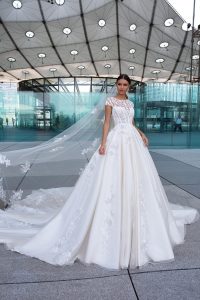 Just over the shoulder-length veils are a great option for brides who want traditional-looking veil that doesn't compete with the detail of your dress.
A floor-length veil just grazes the floor and matches the length of the bride's gown. The flowing fabric will add to your look. For the most regal entrance, you must have a cathedral-length veil. A cathedral-length veil extends beyond the train of the bride's gown and is the most dramatic down-the-aisle length.
There are so many endless options to choose from such as lace edge, soft plain, beading, or a new trend is a veil with pearls throughout it.
How to choose the perfect veil will help shape your style on the big day, so naturally, you'll want something that balances the vibes of your dress without overshadowing it.
At Vonvè we like to show the bride different styles that might complement the bride and her gown. Picking several options for the bride to experiment with to embody different looks. The look can change completely just with the addition of a veil, so it's important that the bride feels most beautiful in whatever the vision may be.