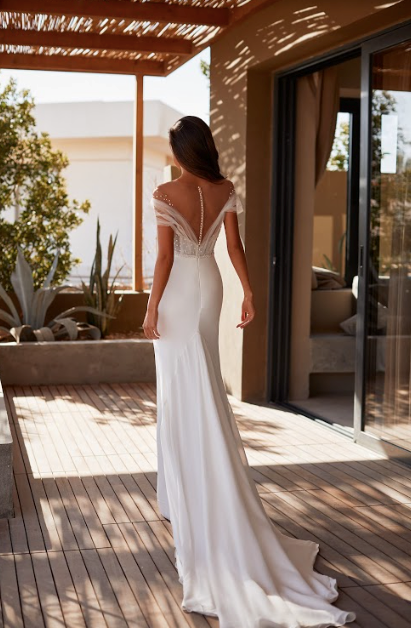 The royal family's weddings have showcased some magnificent trains. Princess Di's in particular was dramatic and utterly unforgettable. The extra length of fabric that extends from the back of your wedding dress and trails behind you is a train.
Should you have a train?
Wedding dress trains are back in a big way but what is right for you?  There are several factors to consider when deciding on wedding dress trains and styles.
Common wedding dress train styles
Sweep
A sweep train is very subtle. At 15 cm longer than the rest of the skirt, this is a great choice for outdoor weddings. This train looks gorgeous on trumpet or mermaid-style wedding gowns.
Chapel
The most common choice for brides is a chapel train. It is between 30 and 45 cm long and is striking on an A-line wedding gown without being too dramatic.
Cathedral
A cathedral train is very formal and at 55 cm or longer, it is great for a black-tie wedding at a dramatic venue. It is beautiful on ball gowns and A-line wedding dresses/
Royal or monarch
This is the longest of the trains and extends a metre or more on the floor. Your flower girls will have to help you get around. Kate Middleton's train was 2.7 metres long and Princess Diana's an incredible 7.6 metres!
After the ceremony
All that extra fabric can be a lot to handle after the ceremony. If you don't plan to change into another outfit for the reception, you'll need a bustle. If your wedding dress train is short, you might be able to button the excess fabric into the skirt to make it the same as the rest.
What is a bustle?
A bustle is the process of "storing" your wedding gown's train. Like trains, there are many different wedding dress bustle types to choose from. It's very difficult to bustle a dress yourself while wearing it so your maid of honour should be at the wedding dress fitting to learn how to bustle your wedding dress. Without a bustle, your wedding dress' train will be stepped on all night and it could tear.
American bustle (Over-bustle)
This bustle style has hooks sewn around the waistline of your wedding dress. The train is then lifted and hooked over the top of the dress. Usually, one pick-up point is used, with more creating a more dramatic look.
Austrian bustle
This is a unique bustle style that is quickly gaining in popularity. Your seamstress will gather the gown fabric centrally, down the middle of the gown at the back. The appearance is similar to ruching and it's pretty easy for bridesmaids to get into place.
French Bustle (Victorian bustle or Under bustle)
This style works best with wedding gowns that have a more natural waistline. It is the opposite of the American bustle, as the hooks tuck the train under the silhouette itself.
Vonvé Bridal Couture
Vonvé Bridal Couture can turn your dreams into reality. We offer our brides a personal one-on-one bridal experience in the elegance of our modern studio. Book an appointment with us today.