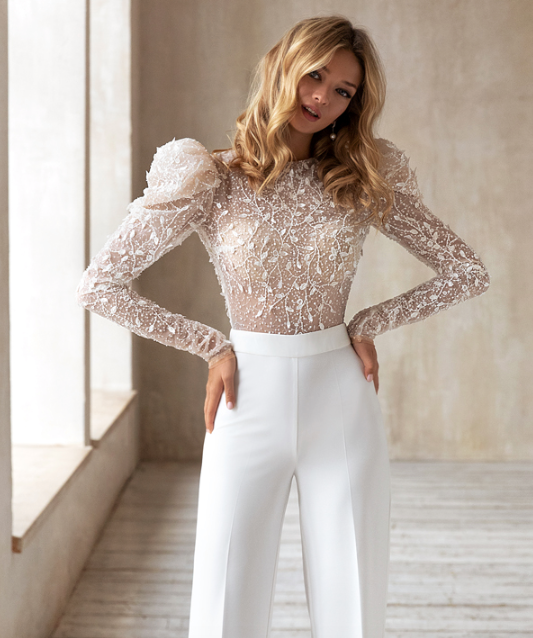 Modern brides are becoming more creative in planning their perfect wedding outfit. That's right, it doesn't always have to be a wedding dress. Suits and jumpsuits are becoming increasingly popular as women find wedding attire that more accurately reflects their personality. And rather than donning a veil, a coat or cape could be more your style.
Stunning suits
Cigarette pants and slim blazers. Culottes and waistcoats. A suit is more than a tuxedo, although we see no problem with satin lapels. As always the most important thing is your comfort. Do you prefer a tailored short suit, or maybe a fitted lace jacket that doubles as a mini dress? This is your day and you can choose the style and colour you are comfortable with. Approach it like your everyday outfit with added glamour.
Also wearing the pants
Jumpsuits are gorgeous alternatives to traditional dresses and are so on-trend right now. They are comfortable and figure-flattering. Whether you choose it tailored or floaty, you will definitely be different.
Don't hang your coat
High fashion meets exchange of vows in exaggerated coats layered over your dress or suit or worn as a wedding gown. This trend is all about having fun with fashion, bringing the catwalk down the aisle.
Return of the cape
Some consider bridal capes to be an alternative to the wedding veil and they are just as varied in style – from romantic caplets to elegant floor-skimming silhouettes. A cape adds instant glamour to your outfit.
If your wedding has a vintage theme you can't go wrong with a high-neck lace caplet.
Vonvé Bridal Couture
Vonvé Bridal Couture can turn your dreams into reality. We offer our brides a personal one-on-one bridal experience in the elegance of our modern studio. Book an appointment with us today.