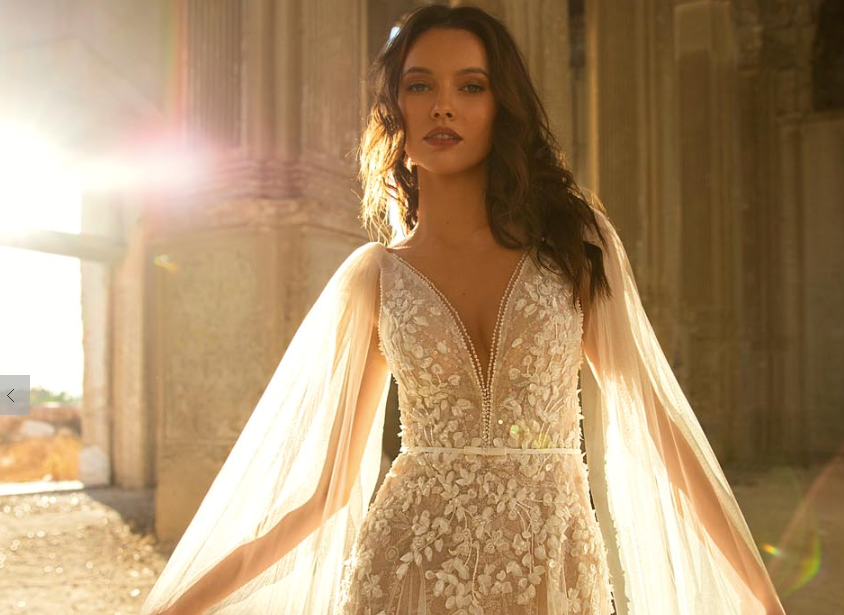 It seems like the biggest wedding gown trends in the new 20s is colour. Think shades of pink, blue, yellow, lavender and green or the bolder black and reds.
Nude undertones
A crisp, white wedding dress has been the gold standard but these days, brides are more daring and bringing their personality into wedding attire. Incorporating nude undertones has become a huge trend. Now flashes of barely-there blush, peach, soft beige, dusty rose and pale porcelain adds a touch of softness and is very flattering to most skin tones.
Pretty pastels
The playful pastel trend of wedding dresses in yellow, green, purple, pink and blue tones is taking center stage. These softer shades bring a feeling of whimsy to many brides' fairy tale day and inject morning and early afternoon ceremonies with fun and glamour. Colour is not just the domain of boho brides. It can compliment some skin tones more than a pure-white gown.
Black magic
Like red, black is a very bold choice and incredibly chic. A solid black wedding gown may seem morbid but the correct style will take it from gothic to dramatic. However, if goth is your style, don't let anyone dictated how you should look. It's your day, let your personality shine. Incorporating just a touch of black makes a daring statement and just because your silhouette may be more formal, it doesn't mean your day will be dull. You know people will be talking about the gorgeous bride for a long time.
Vonvé Bridal Couture
Vonvé Bridal Couture can turn your dreams into reality. We offer our brides a personal one-on-one bridal experience in the elegance of our modern studio. Book an appointment with us today.