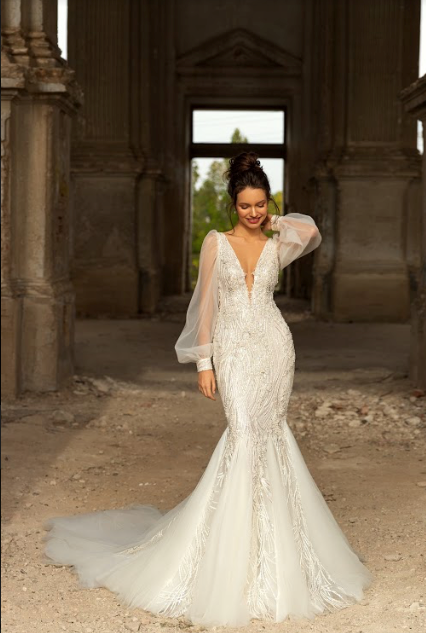 You might feel overwhelmed by the different styles of wedding dresses out there. However, the best way to find your dream dress is to visit a bridal boutique knowing which wedding dress silhouette flatters your body type and makes you feel every bit the glamorous bride.
Explore the wedding dresses on offer at Vonvé Bridal Couture Gowns with our insights into the body types they suit best.
Ballgown wedding dresses
This is the traditional silhouette for wedding dresses, suggestive of enchanting love stories. Its signature is a very full skirt with a cinched, natural waist and fitted bodice. This flattering style is one of the wedding dresses that celebrates most body types.
It's a yes if you're searching for the personification of romance in your wedding dress. For pear, boyish, or busty body shapes, this silhouette is perfect for balancing and creating curves in all the right places. Just keep in mind that these wedding dresses are a mass of material and bathroom trips will require the help of a bridesmaid or two.
However, if you're petite the sheer volume of the skirt could overwhelm your frame. Let's keep looking for your dream dress.


A-line wedding dresses
This is the most flattering of all dress silhouettes, perfect for most body types. A-Line wedding dresses are popular with most brides. The cut is narrow at the top, following the lines of an A to a wide hem.
It's a yes if you're getting married. A-Line wedding dresses look beautiful on practically everyone, offers your loads of movement for the dancefloor and the freedom to pop into the bathroom unassisted.
If you are looking for a wedding dress to show off your hourglass curves, A-Line wedding dresses are not for you. Let's keep browsing for your super sexy silhouette.
Fit and flare wedding dresses
Fit and Flare wedding dresses follow the lines of the waist, hips, and thighs before flaring from mid-thigh to the knee. These super feminine wedding dresses range from a curve-hugging mermaid cut to the trumpet cut, so you can choose how much sexy will be at the altar.
It's a yes if you're blessed with an hourglass shape. If you're planning to get down on the dancefloor, this might be a restrictive choice.
Sheath wedding dresses
Also known as column dresses, these wedding dresses follow a form-fitting style that skims the natural line of the body and doesn't flare out at all. These simple wedding dresses embody effortless grace and might be the silhouette of choice if you're petite. It's a yes if you're looking for a dress something that creates the appearance of an elongated structure, lengthening and slimming smaller frames.
If you have a curvy or busty shape, this dress could unbalance your frame. Why don't you give one of the other silhouettes another twirl?
It's a yes if
When you've tried on all the wedding dresses and considered all these suggestions, you know it's a yes when you feel beautiful. Make an appointment with Vonvé BridalCouture Gowns today try on any of our wedding dresses.